Visit our New Showroom, at 637 Route 228 in Mars, PA.
Nelson Kitchen and Bath Work
It's all about the client relationship. A personal solution, tailored for each family, whether it's a kitchen, or bath. Each situation is different; every solution will be developed to your individual needs and job scope. No two project are alike, because they are a reflection of you. Our goal is to bring your ideas to life within a predetermined room investment on schedule; reflecting who you are.
Working as a team with you; our clients review flooring, cabinetry, lighting, fixtures, color, tile and appliances bringing together just the right choices for your room.
 The reflection of your personality:
Our showroom was designed as a creative boutique for your self- expression.

A range of cabinetry potential selected for value and the taste requirements of our North Pittsburgh audience. Thousands of tile selections to choose from, endless counter top options, with success proven fabricators and installers.

Nelson Kitchen and Bath is a concept boutique; solution oriented, with a style that is refreshing, honest and open to your self- expression.
BECAUSE TWO HEADS ARE BETTER THAN ONE:
Our team approach offers" time- honored" hand drawn and drafted elevations and perspectives combined with proprietary computer projected 20/20 renderings.

We present both colored renderings of possible solutions, to your kitchen and or bath in addition to floor plans accounting for each square inch of space. Art and technology in every presentation.
Here are some examples of projects that we have done recently.  If you like some of the colors or styles, we can apply them in many different applications such as:  Office areas, study, living room, kitchen, bathroom and / or bar.  The possibilities are endless!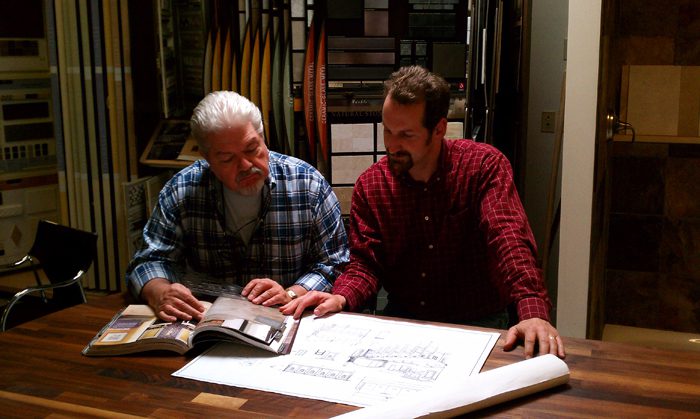 THE TEAM:
OWNER, VISIONARY AND FAMILY MAN; RAY NELSON began his career in home improvement early. As a teen, Ray was expected to keep the families investment properties in working order; that grounding became the basis for years in the kitchen and bath field. The next chapter was creating his own showroom, bringing his method and style to each project.
This combined interest and experience brings a depth that's unique to Nelson Kitchen and Bath.
Custom Kitchen Design for the Pittsburgh Region
How you use your kitchen is the key question. Functional design suited to you, your family and how you entertain, serve meals or gather. Our "client interview process" and your ideas guide our drawings. Here at Nelson kitchen and bath we are a one stop showroom, from design to installation.
Experience how personal service is still alive and well in North Pittsburgh. Explore the possibilities with creative design & functional improvements to your kitchen.
Enjoy and entertain with a new theme & color that suits your lifestyle while giving you that "WOW" as your guests enter. We do all ranges of kitchen remodels, from basic countertops to complete makeovers. We also handle A-Z so you don't have to worry about questionable contractors!
Kitchen & Bath Design + The Moving Service
Your kitchen and bathroom are the two spaces where you'll spend the most time in your home, aside from your bedroom. After all, these are the places where you do your routines to get your day started in preparation of what lies ahead of you. The most essential daily tasks are performed here, and this is why we have a tendency to look for kitchen and bathroom features first when searching for new living spaces!
For those who have plans to move into a new home, it's likely you plan to customize your kitchen and bath to make it feel as comfortable as possible for you and your family. Whether that means working with local designers to completely rework the functionality of the room to fit your household's needs or simply hanging your favorite artwork on the walls, ensuring that these rooms are up to par is a large part of making a house an actual home. This is precisely why it's important to choose the right movers in Pittsburgh for the task at hand.
When you're getting your bathroom ready to move, take care to reserve any toiletries you use throughout the day such as your toothbrush and associated items or medicine. This way, you won't have to pry open a box throughout the day when you're trying to keep things organized. The same line of thought should be applied to any food items in the kitchen, and it's an excellent time to set aside things you don't think you'll use for local shelters.
Anybody who has moved a house without professional assistance around knows just how tiring it can be! When you hire an adequate moving service, you'll enjoy a streamlined moving process. You're better able to execute your moving plans when the heavy work is taken care of, especially for rooms like the kitchen and bathroom. When a week-long process is cut down into one or two days, you see why hiring a professional moving service is a worthy investment for you and your family.
Here is the latest Nelson Kitchen & Bath, LLC completed job!
This newly remodeled bathroom features "transitional" styling such as the Medallion Cabinets, Quartz countertops and "wood plank" tiled floors.  Also, adding flair are the Moen fixtures and upgraded lighting.  The warm grey tones, polished chrome fixtures, and tile accents give this bathroom a nice new , yet warm feeling.
What You Should Know about Designing Your Bathroom
Sooner or later, most people will find themselves needing to update or remodel their bathroom. The bathroom is a main room in the home and one that is utilized more than any other. Consider consulting a local pro from Nelson Kitchen & Bath. They have the experience and Know-how to get the job done correctly and efficiently. Here are some of the starting points to a bathroom remodel:
Measurements
Measurements are a big deal. You simply must know your measurements before you begin. How much space do you allow for a toilet? How much space does the tub require? Where will you want your lighting and is there enough cable to install it there? Will you need to build or remove any internal walls? How much room will you need for shower doors? Will you need sliding shower doors? Will you need a corner sink to allow for more space?
If you are unsure of the plans, measurements, and needed building materials, this is the time to consult a contractor or professional designer. You can not continue without this knowledge. Once you have a complete set of plans and you understand them, then you can purchase materials and begin the job.
Hide the toilet
You do not want to see the toilet as soon as you walk into the bathroom. You can hide it with a partial wall or built in hutch. You can build a water closet around it or move it to a different location in the room.
The sink area is vastly important
The most beautiful part of most bathrooms is the vanity, faucet, and sink area. This is where you will splurge a little. Do not limit your choices by only looking at home supply stores. Transform your bathroom with quality and beauty you can find at places like Maestro Bath. A unique faucet draws the eye and gives your bathroom class and personality. This is your chance to put your brand on your work.
You have Tub Options
Many people think they only have two options with a bathtub. They believe they can have the standard size or very large. If you have a small bathroom, that limits you considerably. But more manufacturers are making a small tub for that very reason. The styles are beautiful and your bathroom will look chic. Ask about tiny tub options from your bathroom supplier.
Vanities are not just for looks
Be sure to choose the right vanity for use (not just for looks). A vanity that is too large takes up too much space, leaving you cramped. A vanity that is too small, is difficult to use. Consider a vanity that has more height rather than width. Before you buy a vanity make sure it is more than eye candy.
Leave some of the vintages
Before you begin ripping tile off the walls, know what you have and how it was installed. If you have very old tile, there may be layers and wire mesh under it, making removal more work than it is worth. Instead, leave the vintage tile and design your room around it. Add some art, trim, and color to the room to pull the eye away from the vintage tile, update the lighting to focus on another area such as the vanity. Use your imagination and go with your creative flow.
Do your homework and know what you are getting into before you take a sledgehammer to the master bath. You can do it, just take your time and use guidance from your local professional at Nelson Kitchen & Bath.
Nelson Kitchen & Bath of Mars, Pennsylvania — Awarded Best Of Houzz 2017
Over 40 Million Monthly Unique Users Nominated Best Home Building,
Remodeling and Design Professionals in North America and Around the World
From Mars, PA , January 25th, 2017 – Nelson Kitchen & Bath has won "Best Of Customer Service" on Houzz®, the leading platform for home remodeling and design. This Artistic Kitchen & Bath Remodeling company of Mars was chosen by the more than 40 million monthly unique users that comprise the Houzz community from among more than one million active home building, remodeling and design industry professionals.
The Best Of Houzz is awarded annually in three categories: Design, Customer Service and Photography. Design award winners' work was the most popular among the more than 40 million monthly users on Houzz. Customer Service honors are based on several factors, including the number and quality of client reviews a professional received in 2016. Architecture and interior design photographers whose images were most popular are recognized with the Photography award. A "Best Of Houzz 2017" badge will appear on winners' profiles, as a sign of  their commitment to excellence. These badges help homeowners identify popular and top-rated home professionals in every metro area on Houzz.
 "We're so pleased to award Best of Houzz 2017 to this incredible group of talented and customer-focused professionals, including Ray Nelson," said Liza Hausman, vice president of Industry Marketing for Houzz. "Each of these businesses was singled out for recognition by our community of homeowners and design enthusiasts for helping to turn their home improvement dreams into reality."
Follow Nelson Kitchen & Bath on Houzz at  https://www.houzz.com/pro/raynelson/nelson-kitchen-and-bath
Here is the latest Nelson Kitchen & Bath, LLC completed job! A great transformation of space, updating the kitchen while providing some of the latest storage possibilities from Diamond Cabinetry. This retrofit involved move the access for the laundry area into a different location. A pocket door was used to not take up any more space than was necessary. Crown molding to the ceiling also really helped to show off how a little extra trim goes a long ways for appearance of a kitchen. Down to the smaller details like the "drop zone" storage cabinet on the end of the wall cabinets really helped clean off the countertops where one would normally leave these items laying around. Everything is neat and tidy in it own well organized location.
New Kitchen and Bathroom Design Work
"Old School" kitchen with a new twist
This kitchen has some black and white school room flavor while keeping a classic appeal by featuring marble inlays on the tiled floor and school room lights above. Also adding flavor is the brick motif behind the cooktop. Then, a twist of contemporary elements are featured: inset outlets and switches set into carrara marble backsplash. The cabinetry making it all possible is "Candlelight" cabinetry; our flagship line, with full custom capabilities. All the pots and pans are now indexed and everything fits neatly into this new kitchen. The possibilities are endless!
"New Kitchen Trends"
This blend of contemporary colors and textures works great because of the high contrast between not only colors, but also textures. Who would of thought 10 years ago that brick would be reintroduced into the kitchen again? Now people are stretching for a "re-purposed" appeal and new materials to make their kitchen unique and not the same as the neighbors. Kitchens are a form of self expression and, if done correctly, can produce the "Wow" factor people are looking for in their home. This kitchen by Nelson Kitchen & Bath features "Diamond" brand cabinetry, granite countertops, and an old world brick backsplash to tranform an average kitchen into a new dynamic space. Enjoy!
Contemporary Kitchen with Medallion "Avalon Door style, Chai Latte" finish, complimented with a Quartz counter top and medley glass/ stone backsplash.
Happy Customers
"Thank you for coming up with a beautiful design for our kitchen.  Working with you on this project was a comfort throughout the job.  We appreciated the expertise of Tom, Joe and Dave on the installation. Great job by all – a dream come true!" Thanks again!
– Rich and Joanne
"What a nice job you did on our shower. Each of your contractors was my "favorite". All true professionals.  What a team you put together. And the design came out better than I had imagined."
– Jo and Doug Johnson
"We wanted to thank you for your assistance.  We are still enjoying the new Kitchen! Thanks again for all your help!"
– Rebecca & Ralph Boyd
"As of October, we have lived in our home for five years. Our home has a gourmet kitchen in it but until Nelson Kitchen and Bath provided us ideas for a kitchen back splash, the gourmet part of the kitchen did not exist.From the planning phase of the project, Ray Nelson provided us with a vision and excellent project management. During the installation phase, Jason the tile installer did an excellent job. He invested hours of his labor to ensure that the job was done perfectly. We want to thank Nelson's Kitchen and Bath for a job well done. You have given our kitchen the WOW factor that it missed."
– The Cottens
Remodeling kitchens and baths in Pittsburgh and Surrounding Areas in Western PA. Currently serving Butler, Cranberry Township, City of Pittsburgh, Wexford, Gibsonia, North Hills, Slippery Rock, Beaver, New Brighton, Monroeville, Mount Lebanon, McCandless, Mars, Indiana, Sewickley, Hampton, Washington, Venango, New Castle, Franklin, Chicora, Grove City, Meadville, Butler County, Valencia, Evans City, etc.